Happy TGIF!!
Good morning my lovelies!
Swingers: The Best Little hOT Tub in Texas is coming along smoothly! We're shooting for a March 15th release, so keep your naughty eyes peeled! It's even hotter than the first Swingers book, Our First Encounter of the Naughtiest Kind! More experience...more characters...and more time covered in the story of our naughty little weekend getaway to the OT Retreat.
Stay tuned and I'll give an excerpt or two!
Until then...enjoy this from the first volume of Swingers!
Texting soon became a normal thing between me and
Lana.
It's so much easier to be bold when you're not face to face. We talked about things we did and didn't like about sex, both with a man and with a woman. At least she did. My curiosity was so strong, I could taste it. I knew exactly what I wanted to do with Lana! She asked me to tell her what I wanted to do with her…so I did. I texted to her, while she was at work, exactly what I had in mind. Our texting went a little something like this:
I had just told Lana of our first experience and how we weren't really prepared for it.
You definitely have to establish trust w/who u decide to swap with. In our exp. (like we're pros at this) we have only swapped w/ one cpl we just met at the club. It was my b-day so it doesn't count rite? LOL. Joking aside, we like to know what everyone's boundaries are that are involved.
~Lana
I agree. I think we should all talk in detail of what we like and don't like, of the boundaries and what we want to do with each other, (ff, mf, fmf, mfm, mfmf.) I have an idea of what you and I will do from chatting with you. But, the guys need to jump into this discussion. You don't know what to expect from Brock at this point and me with Ric. Honestly, I've been so focused on "ff", I haven't thought about it as much as I should. Not saying I haven't thought about you and Brock and me and Ric, but, what are they thinking? You know?
~Chasity
Oh really. What ideas do u have brewing for U and me, hmmmmm? LOL!
~Lana
Seemed she didn't pay attention to anything else I said after I have an idea of what you and I will do… Oh well, I just went with it.
You really want to know?
~Chasity
Sure.
~Lana
Okay, here goes
…I would start slowly, savoring the moment of my first time with a woman, feeling your soft skin and driving you mad with desire. I'd caress your neck, shoulder, arms, and breasts. I think I'll pause there for a taste. After I work both of them to peak, I'll continue down with both soft kisses and caresses….you want more?
~Chasity
Uh huh!!! More please!!!
~Lana
LOL! Okay…I'll move very slowly down your belly and to your left hip, then I'll nip my way to the crevice between your belly and your thigh. With a long slow stroke of my tongue through the little canyon there, I'll find your mound and stop. More?...
~Chasity
U have my attention! J
~Lana
K…I'll position myself between your legs and start at your ankles, working my way up softly and slowly with my fingertips. Once past your knees, I won't be able to continue any further without kisses, too. You're inner thighs will get equal attention. I'll find the other crevice between thigh and belly, treating it to the same long stroke of my tongue, but, this time, when I come to your mound…is that enough, yet, or, do you want more?
~Chasity
Tease! LOL!
~Lana
I can take more. Not getting much work done, but I can take more!
~Lana
LOL! Okay…but, if you get in trouble with your boss…
~Chasity
I do a great job looking busy! LOL!
~Lana
Alright then…I'll rub my lips softly on your mound, then...
For more, grab a copy of it on:
Swingers: Our First Encounter of the Naughtiest Kind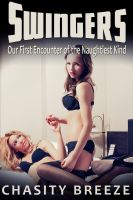 By
Chasity Breeze
Rating:

(

6

reviews) based on
Published: Jan. 17, 2013
Words: 6,429 (approximate)
Language: English
ISBN:
9781301603466
Short description
The first in a series of erotic fiction and non-fiction short stories. Explicit sexual encounters ranging from voyeurism, couple play, foursomes and bisexual play.